Year 6 Trip to see Michael Rosen at the Peterborough New Theatre.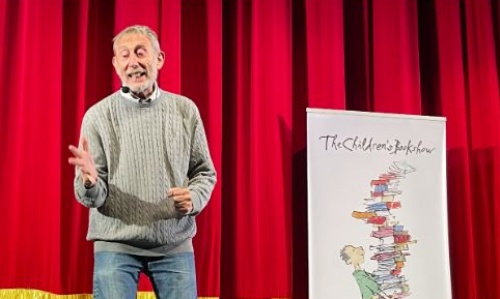 An engaging and inspirational performance by Michael Rosen!
Our Year 6 Pupils were treated to an outstanding performance by Michael Rosen at the New Theatre on Wednesday 4th October, run by the Children's Bookshow Charity. With front row seats they were fully engaged for the duration of the one-hour show, thanks to Michael's talent for writing, performing and his ability to interact with the audience. The children were encouraged to join in with Michael acting out his poems and they enthusiastically participated, enjoying favourites such as "Chocolate Cake".
Year 6 teacher Mr Pike said "It was the best school trip I have ever been on in terms of how engaging Michael was and his story-telling techniques. The children learned a lot about rhyming couplets too."
At the end of the show there was an opportunity for the children to ask Michael questions and they were delighted to receive a free book each.