Phonics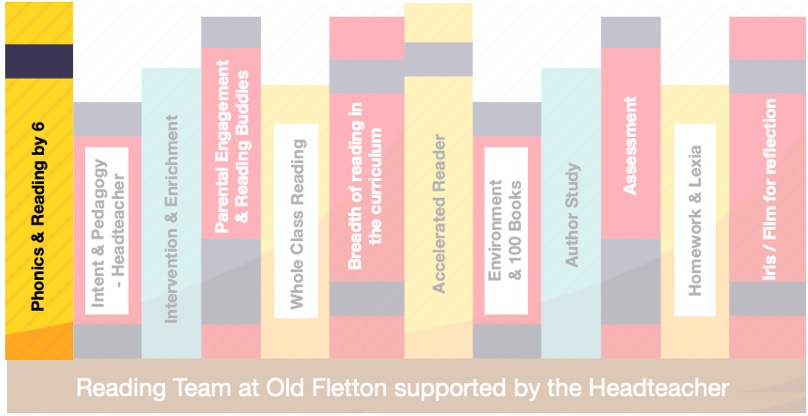 Read, Write Inc. Phonics
The purpose of Read Write Inc. Phonics is to: teach every child to read and write, and to keep them reading. No exceptions. We give teachers and support staff the skills and confidence to reach every child using the Read Write Inc. Phonics programme developed by Ruth Miskin. The programme has a proven track record in enabling schools to achieve standards above national expectations for the end of
Year 1 Phonics Screen.
This is achieved at Old Fletton Primary School through: differentiated, daily synthetic phonics teaching across EYFS and KS1 which shows consistent fidelity to the Read Write Inc. Phonics structure. Children are taught daily speed sound sessions which build confidence in recognising and blending set 1, 2 and 3 sounds. These sounds are then applied to real words and pseudonym words. Children are given daily opportunities to spell and write new sounds as well as consolidating previously taught graphemes. The children work through a range of both fiction and non fiction texts which are closely matched to their needs. Assessments are carried out in 6 week cycles by the Read Write Inc. Phonics Lead Teacher to ensure that groupings are fluid and responsive. Alongside this there are daily tuition sessions which identify and close specific gaps for the lowest 20% of each year group.
Moving into Year 3: children who do not pass the re-sit in Year 2 or have not reached their chronological reading age will continue to be taught daily phonics with the Lower School to allow for learning to be embedded.
Alongside this expectation, to ensure rigour and fidelity to the scheme, staff attend fortnightly training sessions which focus closely on one aspect of the teaching session. From here, coaching sessions are booked with the Read Write Inc. Phonics Lead Teacher to ensure all staff are supported and developed professionally to enable the highest quality of teaching.